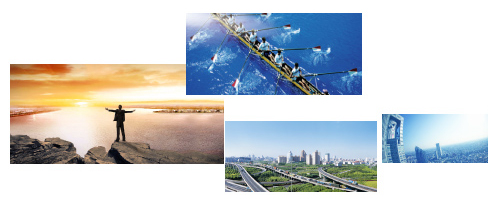 Zhaonggang people, are more broad-minded and have broader road, the great tolerance and spirit to make great achievements
The steersman of Zhonggang,  like a judge of talent, identifies, trusts and use excellent talents. The talents from all areas unite sincerely to inject energy to the development of Zhonggang
Zhaonggang people ,  cooperate with those with the common goal and jointly seek for development with the broad-minded dreamers to achieve great ambition

Zhonggang people, forge ahead with determination, sincerely unite, the steersman, drummer and sailors have the consistent objective and unified order, unite, make progress and strive to be the first!
Zhonggang people, endure hardship and diligence and make progress. A lot of people are far away from their homeland and relatives, tae company as their home, strive in the front line the whole year and make great contribution.
Zhonggang people, make concentrated efforts, make endeavor in the torrent, regardless of any difficulty.
Zhonggang people, comply with the discipline, obey command, keep consistent and are unified to step toward "Zhonggang Dream".

With the purpose of "honesty, promise keeping, cooperation and mutual benefit", Zhonggang people aim to enhance understand and strengthen mutual trust with the partners, build the cooperation concept of "cleanness, integrity and mutual benefit", further expand the new excellent cooperation resources and jointly establish a long-term strategic partnership.
Zhonggang people have a dream, i.e. to pursue excellence down to earth and become the leader in the urbanization process of China.

The motive power originated from a clear objective-striving to become the most economically influential investment and construction operation service provider in China.